Bed bugs have had a major resurgence in Australia and every year the problem seems to be getting worse. Although information on actual numbers of Bed Bugs in Australia are not readily available, it seems more Bed Bug control jobs are going to fewer specialist companies such as Jim's Pest Control.
To get in touch with us, simply call 131 546 and our friendly staff will take your details.
What we do to treat bed bugs..
To enable us to have an effective bed bugs control program, we thoroughly inspect your building concentrating on your sleeping areas. Bed bugs are nocturnal meaning they come out after dark and this is also when they feed. Bed Bugs can be found in mattresses, bed bases, crevices and even behind pictures on the wall.
Once we locate the population, we can start our integrated program and bed bugs treatment. We treat all affected areas with safe insecticides and concentrate on their harbourages so most of the insecticide is out of sight.
We also supply a range of effective mattress encasements at a very competitive price which will ensure a much better outcome.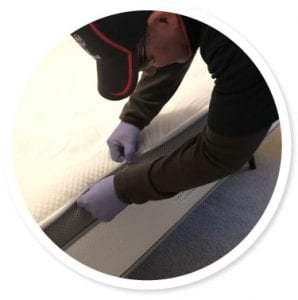 What you can do with our bed bug help and advice
You will need to wash bedding and clothing in hot water. Thorough vacuuming of all hard floor areas, carpets, rugs and soft furniture is also required. Double bag the contents of your vacuum cleaner and dispose in the rubbish bin immediately.
Important Information for Hotels
We understand the need for complete confidence when dealing with a bed bug eradication program. We also understand the need to respond promptly and ensure the room can be made available in the shortest possible time. We will endeavour to ensure your downtime is kept to an absolute minimum where possible.