Jim's is your local pest control Magill expert. Our techs servicing the area are experienced, fully trained, and insured. You can trust the Jim's name to help you with any pest problem.
To get in touch with us, simply call 131 546 and our friendly staff will take your details.
Magill is a suburb of Adelaide, found at the base of the Adelaide Hills. It is a great place to live and locals enjoy the wide choice of restaurants and cafes in the area.
Morialta Conservation park is close by and many people use the walking trials.
The area is well known for its large gum trees which provide shelter for birds and other animals. Pests use these trees for shelter as well.
Termites colonies can often be found in the root crowns of trees. Ants can be seen climbing trees to feast on insects and sap.
When the populations expand, they quickly move into houses nearby.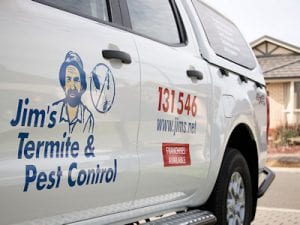 Magill and the surrounding areas are well known hotspots for termites. Typically, the older homes have been treated with some very toxic chemicals.
However, as they homes are brought and renovated the termite barriers are being removed. As there is no termite protection in place, soon termites will invade.
We receive weekly phone calls from distressed locals who have found termites in their new home renovation projects.
Once they have invaded a home, it will require specialist's treatment to evict them. Our technicians will first need to identify what species they are. You may not know this, but there are currently over 350 different species of termites in Australia. They all behave very differently and will require different approaches to eliminate.
Only a termite specialist, such as our Jim's Pest Control (Magill) expert will know the best approach.
Vegetable gardens and chickens attract pests
Many people in the Magill area have large backyards. It is not uncommon for residents to have large vegie patches and chickens.
While having fresh produce from the backyard is a great idea, you will need to consider that it will attract pests.
Rodents like mice and rats will readily eat the vegies you grow. They like to eat chillies, peppers and tomatoes. Grape vines and grapes are a favourite food source as well.
Spilt food from chickens are another great food source for rats. Just about every home that has chickens will get inundated with these rodents.
Any fruit trees will encourage possums and birds to visit. It is a constant battle to keep these annoying pests at bay.
With an amply supply of food on hand, pests will soon move closer to the food source. Often, they will rest during the day in roof voids.
When residents can't sleep at night, Jim's Pest Control is called to evict the noise makers.
Meet your local pest control business owner
Eric Bedford is you local Jim's Termite & Pest Control provider. Like all Jim's, he owns and operates his own business. As he lives locally, he can respond very quickly to any pest issues.
He prides himself on delivery outstanding results for his clients, which has him held in high regards in the community.