Jim's is your local pest control Hamilton experts. Our techs servicing the area are experienced, fully trained, and insured. You can trust the Jim's name to help you with any pest problem.
If you need to get in touch with us, simply call 131 546 and our friendly staff will take your details.
Hamilton is a great rural town in Victoria. It was claimed by locals as being the wool capital of the world. Many locals have built great livelihoods of the back of sheep.
Rural areas are a great place to raise a family. Kids can play in the streets and visit friends anytime. This is something that city kids can only dream about.
We have many recreational activities in the area. Many locals like to spend time by the lake with kids exploring the Grange Burn.
As we are surrounded by farms and farmlands, we see many rural pests. The pests that hang around these farmlands are only too happy to invade our homes.
Jim's Pest Control understands, how hard it can be to get pest control services in Hamilton. Therefore, our Mount Gambier business owner now services the area.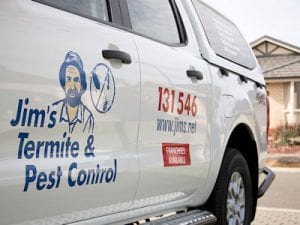 Pest Control Hamilton being serviced by Jim's
Jim's understands how difficult it can be to get services to country areas. We like to have local businesses where possible. Understanding that some communities will not have the constant workload, provides a challenge.
To cover these areas, we often ask one of our business owners to cover several country towns. Regarding Hamilton, the local Mount Gambier technician was only too happy to help.
As he has grown up in a small country town, he knows how hard it can be.
Reasonable prices
Our technician servicing the area has grown up in small country towns. He knows how difficult it can be to get tradies. If you do eventually find someone then their prices can be quite expensive. Even worse is the time it takes to get them out to do the job.
He and Jim's think that this is unfair. Just because you live in a rural community does not mean you should be price gouged.
Therefore, we are committed to providing excellent service at reasonable prices.
Best possible products used
Jim's is one of the largest pest control providers in Australia. This enables us to have a superior buying power, allowing us to provide pest control services at reasonable prices.
As there are so many of us, suppliers are keen to get their products into our local businesses. They are constantly giving our techs new products to trial. With any new products, there can be mixed results.
Only once a product has been proven to deliver to desired results will we it be used.
Many pest control companies are always looking for the cheapest products. Jim's is different, as we look for products that will delivery outstanding results. Cost of product is never a consideration.
This commitment is the reason why so many locals now trust Jim's with all their pest control needs.