Jim's is your local pest control Portland experts. Our techs servicing the area are experienced, fully trained, and insured. You can trust the Jim's name to help you with any pest problem.
To get in touch with us, simply call 131 546 and our friendly staff will take your details.
Portland is one of the most picturesque parts of Victoria. We are a major shipping port for the nearby timber industry.
There are three main industries in the area. They are commercial fishing, agriculture and the timber industry.
Commercial fishing is an important part of our community. Our pristine waters offering some fantastic seafood.
A wide range of agricultural business operate in the area offering everything from milk production to beef cattle can be found near Portland.
Finally, the pine plantations and timber industry are very important to our community.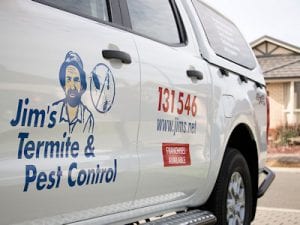 Pest Control Portland services provide by Jim's
As we are a remote seaside town it is often hard to get tradies in the area. Even more so if you have a pest problem.
Did you know that our local pest expert in Mount Gambier travels to Portland on a regular basis to service our customers?
Our Mount Gambier technician grew up in a small town just like like Portland. He knows that it can be exceedingly difficult to get professional services, and sometimes you have to wait for months for someone to come out.
Therefore, he is committed to providing pest control services to the South Western parts of Victoria.
Pests thrive in rural settings
While we love the country lifestyle that Portland offers, it does come with a few challenges. Pests thrive in the area due to our rural setting.
Farmlands are well known to be havens for pests. Spilt grain and fodder are a great food source for them. If you combine this with old farm sheds, you have the receipt for infestations.
When the population becomes too great, they will soon disperse. Unfortunately, this is often into homes and business in the area.
This is when Jim's Pest Control is called to get these pests back under control.
Best pest products delivering outstanding results
When it comes to remote or isolated towns, we are the best people to contact. We believe in only using the best available products in the industry that have been proven to deliver outstanding results.
It is a waste of your and our time if we cannot get your pests under control quickly.
For this reason, we only source and use the best products available on the market. As we are part of a larger group these products are extensively tested.
Through this process we develop a great understanding of how the product works. We develop the knowledge on when and where these products should be used.
This is the reason why so many locals, now trust Jim's to resolve any pest issues.