Jim's is your local pest control Highbury experts. Our techs servicing the area are experienced, fully trained, and insured. You can trust the Jim's name to help you with any pest problem.
To get in touch with us, simply call 131 546 and our friendly staff will take your details.
Highbury is a suburb of Adelaide at the base of the Adelaide foothills. It is a well establish suburb and has lots to offer for residents.
The nearby Torrens River is a favourite amongst locals. There is nothing better than spending a day picnicking on the banks of the river.
It is a major draw card for locals and visitors alike. The well-established walking trails see large numbers of foot traffic over the weekends.
Pests are drawn to this area as well. European wasps are common in the area and used the banks to build their nests. Ants swarm over the area during summer, raiding any unattended picnic baskets and BBQ's.
The trees provide shelter for birds and possums, which in turn attracts other pests.
Jim's Pest Control knows only to well what pests are lurking nearby.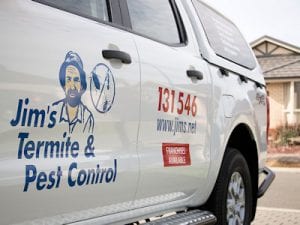 Jim's Pest Control Highbury; an experienced local expert
Jim's Pest Control has been operating in the Highbury area since 2011. Our technicians in the area live locally and understand how pests move about our community.
We are experienced in all aspects of pest control and offer a full range of pest services. Some common pests we see in the area are:
In fact, we see every pest that you can possibly think of in the area.
Pests follow Torrens River
While we enjoy following the Torrens River when walking or exercising, pest use the same paths to spread through our community.
Riverbanks provide the ideal corridor for pests to access homes and businesses. Often homes that back onto the river are at the front line of pest invasions.
There are often inundated with spiders during the summer and rats during the winter. Even more concerning is the termite colonies that live in the large gum trees.
It is not uncommon for homes in the area to have several pest problems throughout the year.
Training is the key to successful pest treatments
Life and technology are constantly changing. Only a few years ago it would not be comprehended that everyone would have a mobile phone.
The pest control industry is no different. There have been some substantial changes over the past few years.
Our industry is now more concerned about the impact on the environment. This has resulted in chemicals being developed that will have a more targeted approach.
No longer are we just blanket spraying an area to wipe everything out. These days we have the capability of just eliminating the pest of concern, leaving everything else unharmed.
At Jim's Pest Control we are committed to this.
Meet your local business owner
Luke Hattam owns and operates the local Jim's Pest Control business in Highbury. Being a very experienced technician, Luke has worked for several leading companies in Adelaide.
He is also a family man who prides himself on his work. His knowledge about pests and their behaviour is second to none, which clients appreciate.