Jim's is your local pest control Murray Bridge experts. Our techs servicing the area are experienced, fully trained, and insured. You can trust the Jim's name to help you with any pest problem.
To get in touch with us, simply call 131 546 and our friendly staff will take your details.
Murray Bridge is a beautiful town on the banks of the Murray River. The river is what draws most people to the area.
Often, when it is raining in Adelaide, it can be bright sunshine in our town. The mild weather means we can do most of our entertaining outside.
On the weekends the river can get quite busy with boats buzzing up and down all day. The local speedway draws big crowds to the area, which helps local businesses.
Agriculture and meat processing plants are the backbone of the community. However, due to our rural setting, pests are prevalent in the area.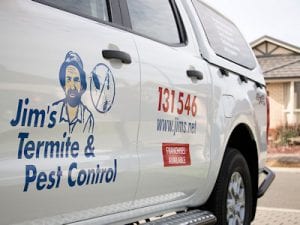 Jim's Pest Control Murray Bridge are the go-to experts
Jim's Pest Control Murray Bridge have been serving the area for years. In fact, some technicians were born and have grown up in our community. Their pest control careers started in town.
They saw the need for expert advice that was often lacking in our community. Enquiring with Jim's meant they were able to learn from the very best in the industry.
Combining that with the backing major industry suppliers has led to Jim's being the go-to experts.
Customer service second to none
Jim's is a well recognised brand throughout Australia. They have a great reputation regarding customer service.
This reputation has been built by doing the simple things. For example, if you call Jim's, you can expect the technician to call you back within 2 hours. Often it is within 5 to 10 minutes.
When you book a job, the technician will nearly always be on time. If they are running late for any reason, they will give you a call, to let you know.
If you are unhappy with the results, they will only be happy to come back and rectify the work.
Because of this exceptional service, more locals are now using Jim's for all their pest control needs.
Messy yards encourage in Murray Bridge
Most pests are very timid animals. At the first sign of danger they will scurry away to safety. Often, they will only emerge under the cover of darkness.
For this reason, most Murray Bridge locals will only spot the evidence of pests and not the pests themselves.
Messy front and back yards will help pests to survive. Overgrown gardens and weeds will provide the perfect cover for mice and rats. This will in-turn encourage snakes and lizards into the area.
By simply keeping yards neat and tidy it can significantly reduce the pest activity.
Meet your local pest experts
There are currently 3 technicians servicing Murray Bridge and the surrounding areas. James King is the local business owner of Jim's Pest Control in Murray Bridge. As well as James, he has Paul Baldock and Lynton Paddick working in the area too.
They have over 50 years combined experience dealing with pests, which makes them the go-to experts that delivery exceptional results.