We are often asked the question, "how much does termite treatment cost?"
Realistically it's a hard thing to work out over the phone as there can be lots of variables.
You can call us now on 131 546 to make a booking, or read on for more information.
Did you know that there are 350 different species of termites in Australia? But, even more importantly, in Adelaide we commonly find the 2nd and 3rd most destructive termites found in people's homes in Australia!
It is really important to understand and identify which species of termites you have as this will determine the best approach and treatment that needs to be put in place. This will also affect the termite treatment cost.
For example, if one of our local Adelaide Jim's Termite & Pest Control technicians finds Hetrotermes inside a home, the treatment can usually be very low cost as the colony that we are dealing with is only small, being 200-300 termites.
However if the technician determines that they are Coptotermes, then the termite treatment cost can be quite high. The technician will be dealing with a colony that is 200,000 to 300,000 plus strong. These termites will also need to be dealt with quickly as they are the most destructive termites we have, particularly in Adelaide, the Adelaide Hills, and Mount Gambier.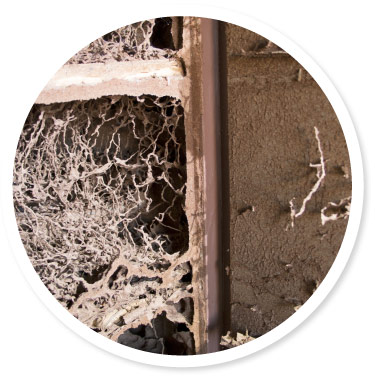 How much does termite treatment cost? The options.
Termite treatment costs will also be determined on what sort of treatment you select and this may depend on the budget you may have available to spend. The cheapest termite treatment which deals with a termite colony in Adelaide would be for our Jim's technicians to apply a liquid chemical directly into the nest.
This procedure will of course depend on whether or not the nest and colony can be located.
The next cheapest termite treatment option would be to apply a baiting program to the termites. This is where a bait box is placed on the termites and the destructive little critters feed on the bait, and then conveniently take it back to their colony.
Baiting programs are a very good way of dealing with termites as it baits are not dependent on finding the colony or nest; we actually use the termites to do the work for us as they will take the bait back to the colony.
The next two options for treating termites is either drill and inject a chemical treatment or monitoring system. Both of these are long term effective termite treatment management options, protecting the home for several years.
While these may have higher costs, they will give the home owner long term termite protection against termites and the initial outlay will be very cost effective over a longer period of time.
Some of these treatments will even come with a timber replacement warranty, and in fact a lot of our Adelaide and Mount Gambier technicians have been trained in the install and maintenance of the specialist Exterra Termite Monitoring Systems.
If you chose this option, there is a manufacturers $250,000 timber replacement warranty. This gives a lot of our Adelaide clients great peace of mind knowing that their property is fully protected against future termite attacks, not to mention that a local Jim's Termite & Pest Control technician is always checking and monitoring the system.
Why choose Jim's Termite and Pest Control?
Our local Jim's technicians in Adelaide have done extensive training on how to identify all species of termite in South Australia. Once they have identified and looked at the construction of your home, they can provide you with an accurate termite treatment cost and will generally give you three different options to deal with your termite problem.
At Jim's Termite and Pest Control, we believe we are not only the best qualified to provide termite treatment in Adelaide, but our obligation free quotes will surprise you.
We hope that this information has helped you answer "How much does termite treatment cost?", but if not, please call us now on 131 546 for more info or to make a booking to protect your home!