Over the years, many people have asked themselves "How do I get rid of possums in my roof?" Removal will require the local expert knowledge and expertise that Jim's can provide. Our techs servicing Adelaide and South Australia are experienced in possum capture. They are also insured, and, very importantly, licensed, so you can trust the Jim's name to help you with any possum problem.
Get in touch with us about any possum problem you are experiencing. Simply call 131 546 and our friendly staff will take your details.
Possums are a protected species, so handling them will require local government approval. They are a nuisance animal to most people, feeding on fruit and vegetables grown in gardens. If they enter your roof void, the noise they make is extremely upsetting.  Many sleepless nights ha been caused by these cute troublemakers. So much so, we receive regular phone calls during the evening and nighttime from frightened locals.
Some people certainly might think they are cute and cuddly, but it would be a mistake to actually cuddle one. They have sharp claws and teeth, and when frightened, they will not hesitate to use them. If you find you have possums in your roof void, we highly recommend you call Jim's Pest Control to move them on safely and legally.
How do I get rid of possums in my roof safely?
Trapping possums is the safest way to remove them. But, to do this yourself (legally), you will need to obtain a permit from your local government provider.
Several suppliers will have traps available for sale which can be purchased to catch possums. If you go down this track though, you need to check the dimensions of the trap as some will be too small to fit an adult possum. The gauge of the wire on the trap is important as well. If the wire is too weak, the possums can simply tear the trap apart. It is probably comes as no surprise at how strong a trapped animal can become.
Once caught, the possum can only be held for a few hours before being released within 50 meters of where it was caught. In this time, you need to proof their entrance point too, otherwise they can (and probably will) race you back home.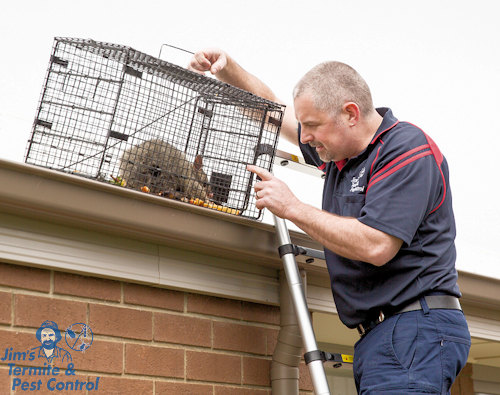 Proofing entrance points is critical in the success of any possum eviction. If you do not seal the access holes, they will definitely return. Some access points will be hard to identify, and this is where engaging the expertise of Jim's Pest Control will pay dividends.
Our techs have been trapping and dealing with possums for years. In fact, it could be said that we almost have a sixth sense of where they will be gaining access.
Once these areas are identified, a maintenance person can be called to permanently fix the holes. In some cases, your local Jim's tech may even put in temporary proofing until it can be fixed permanently.
Is it quicker to use Jim's to get rid of your possum?
It can be a long process dealing with possums yourself. Calling Jim's Pest Control in is a lot quicker, and, in most cases, trapping of the annoying beast can start on the same day.
Often the possum will be caught in the first few days, hence the issue can be under control within a few days. This why so many Adelaide residents call Jim's Pest Control to evict their possums.