Want to know how to get rid of mice in your house? It may sound easy, but you will likely need the assistance of Jim's Pest Control experts. Our local techs servicing Adelaide and South Australia are experienced, fully trained, and insured. You can trust the Jim's name to help you with any pest problem.
Mice can be a tricky little pest to capture. They move into your home when the weather turns nasty. Rain and cold especially will drive them indoors.
Once inside they will find an abundant food source in your pantry. Even if you put food in an airtight container, they will simply chew through it with their sharp teeth. People report feeling truly disgusting when they discover them in their kitchen.
Get in touch with us now about any mouse or rat control problem. Simply call 131 546 and our friendly staff will take your details.
How to get rid of mice in your house – it starts with sealing holes up
Mice will not be living in your kitchen, but merely raiding it at night. If you spot one at night, you are both likely to get a fright. The mouse will quickly disappear, making you question what you have just seen. To successfully treat them yourself you must limit their access. Mice are very flexible and skilled at squeezing under doors.
Garages are an easy access point as the large gaps around roller doors are very inviting. It is extremely hard to stop them accessing your garage. The best thing you can do is to seal up under the garage access door.
Another favourite access point is around the numerous pipe fittings that enter your home. For example, gas pipes coming through the walls are typical access points for your kitchen. Living in the roof void, gas lines provide a freeway access to your cupboards. Many frustrated clients ring Jim's Pest Control because they just cannot get on top of their rodent problems.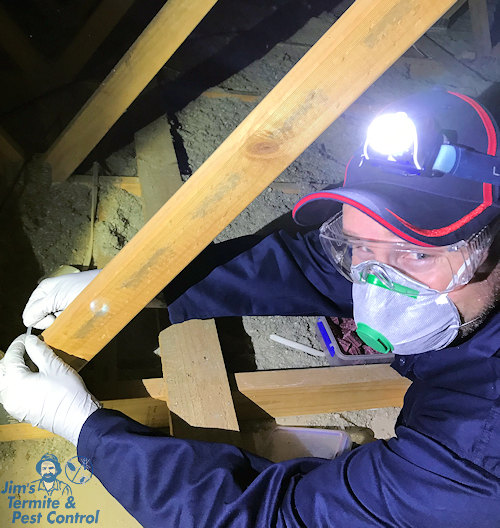 Cockroach infestation leads to mice infestation
Did you know that mice will eat proteins in the form of cockroaches?
Most Adelaide residents think that mice only eat grain-based foods. They are quite shocked to learn that they relish cockroaches as well.
It is not uncommon for our local techs to discover mice in a kitchen when dealing with a cockroach infestation. For mice, it is just an extra food source for them. So, it is especially important to keep your cockroaches under control.
Where do mice live in your home?
Mice can live in small areas. Boxes and stored goods are the ideal environment that they can use to set up house. However, it is only in infestations that we find this behaviour. Typically, they would rather nest in your walls as it provides a safe environment from predators.
In most cases it will be difficult to locate where they are living. You are likely to need the assistance of a local Jim's Pest Control expert.
Jim's Pest Control has been treating mice in Adelaide homes and businesses for years. We are the go-to experts that locals trust will eradicate their mice problems.