When it comes to pigeon shooting, Jim's Pest Control has local experts in Adelaide. Our techs are fully licensed, insured and qualified to conduct residential and commercial pigeon shoots.
If you need to get in touch with us, simply call 131 546 and our friendly staff will take your details.
Pigeons can breed up in vast numbers, and can cause problems for property owners. They can block up gutters causing them to overflow and damage buildings.
Their droppings can be quite caustic and will cause gutters to rust. Droppings can cause some health issues to humans as droppings can carry several diseases. It is important to get droppings removed regularly.
As pigeons are an airborne pest, they can be very difficult to control. Poisoning and baiting programs can be conducted, but they often end up killing non-target animals.
This why pigeon shooting, as an option, is a better way of dealing with these pests. With shooting we can be sure that we are only taking out the target animal.
All of our Adelaide Jim's Pest Control technicians will be able to discuss bird culling options with you.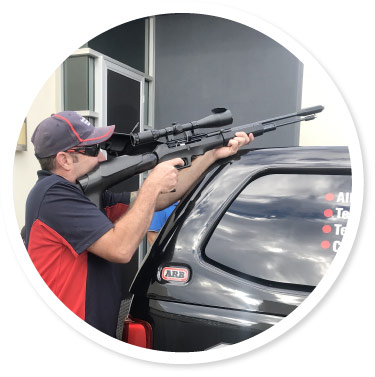 Pigeon shooting; a specialist field
With discharging a riffle legally in a residential area, it is restricted to a handful of people. You must have a pest control business, and apply for the correct endorsement on your gun license.
Insurance companies need to be notified of the added service to your business. Police will also need to be notified of any pigeon shooting that is to be undertaken.
Even in some instances silencers will need to be used to limit noise around sensitive areas. Sound moderators (silencers) are limited to only a handful of people in Adelaide.
Jim's Pest Control in Adelaide is fully licensed and endorsed to conduct pigeon shooting in residential and commercial areas. Some of our technicians are the few who have been endorsed to use and carry a silencer.
We are the experts that clients trust will deliver results every time.
Call now and we'll work with you to control your Bird Problem – Guaranteed!
High powered air rifles results in quick death for birds
It is extremely important when pigeon shooting, that shots be very accurate and the birds die quickly. It is not humane to use a riffle which will only injure the bird.
This is why our technicians will only use the most accurate riffles available in Australia. Some of these rifles can cost up to $4,000 and are of championship target quality.
They are that accurate that we are able to shoot a 5 cent piece at 25 meters, all day long.
This is extremely important as we need to make sure when we pull the trigger that we know exactly where the pellet is going.
It is equally as important to make sure there is enough power in the shot to kill the bird, but not enough to do any damage to any structure.
These are the reason's our technicians will only use the best high powered air riffles.
Bird culls checked in with SA Police
It is extremely important when conducting pigeon shooting operations, that we inform the South Australian Police of our activities.
Adelaide police are always notified of any bird shoots that we carry out because it is important for public safety. They need to know where we are at all times with our firearms. They also need to know who is on site and if they are licensed to carry out the bird culling activities.
Our Jim's Pest Control clients are always provided with the police job number for their piece of mind.