Jim's is your local pest control Hallett Cove expert. Our techs servicing the area are experienced, fully trained, and insured. You can trust the Jim's name to help you with any pest problem.
If you need to get in touch with us, simply call 131 546 and our friendly staff will take your details.
Hallett Cove is one of the best places in Adelaide to live in. Some houses have spectacular views over the Gulf. Most locals enjoy the walking tracks along the cliffs, and on the weekends, it can get quite busy.
We have great recreational facilities in the area which are enjoyed by locals and visitors alike.
Fishing, motorbike riding, soccer, football is just some of the activities on offer.
Local creeks and gullies in the area are great to explore. Many native animals along with pests call these areas home.
Most people are shocked to learn at just how many pests there are in the area.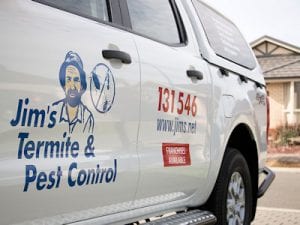 Jim's Pest Control Hallett Cove; a trusted local expert

It is important to Jim's that we have local technicians servicing the area. They are at a distinct advantage over other pest control companies.
The reason for this is that, if they live local, they will see firsthand the pests in our community. Pests that invade their homes will be the same ones that are invading yours.
This awareness makes them the leading experts in the area. They will know what pests you are likely to see and where they will be hiding.
For this reason, Jim's Pest Control is the trusted expert that many residents turn to.
Bee flight paths
Something interesting that you may not be aware of is bee flights come from the gullies in the area. Houses that back onto the gullies are in the direct flight path. On warm days in spring, beehives in the gully will split into two.
The second bee swarm will take flight out of the gully in search of a new home. Often, they will end up bunching up on plants or trees. When this happens Jim's Pest Control is often called.
Did you know that all Jim's Pest Control technicians are committed to capturing and relocating bees where possible?
Yes, we offer live bee capture service. This involves us capturing the bees in a bee bag or nuc bee box. They are then relocated to an awaiting beekeeper for re housing.
Most people are pleasantly surprised to learn how we are working together with beekeepers to protect the vital creatures.
We like to think our small efforts are helping bee preservation efforts.
Your local Hallett Cove business owner
Mat Rogers owns and operates the local Jim's Pest Control business in Hallett Cove. He is well regarded by his clients to be able to fix any pest issue.
Clients just love the fact that he makes himself available to his clients 7 days a week to discuss any issues.