If you have landed on this page you have probably found termites in your home, and you're asking "What to do I if I find termites in my house in Adelaide?"
If you are really concerned about what you have found then you should give Jim's Termite & Pest Control a call straight away on 131546.
Our technicians can come out to have a look at what you have found and put you mind at ease even on a Saturday or Sunday.
When you find termites in your Adelaide home most people want to know what they need to do, in fact it is the first question most clients ask when ringing Jim's Termite & Pest Control.
The most important thing to do if you find termites in Adelaide is not to disturb them. You can take a photo of what you have found and send these through to your pest technician for identification but other than that you should leave them alone.
The reason for this is that it makes it easier for the Adelaide Jim's Termite & Pest Control technician to correctly identify the species of termite you have. There are actually over 330 different types of termites in Australia and in Adelaide we have the second and third most destructive termites in Australia.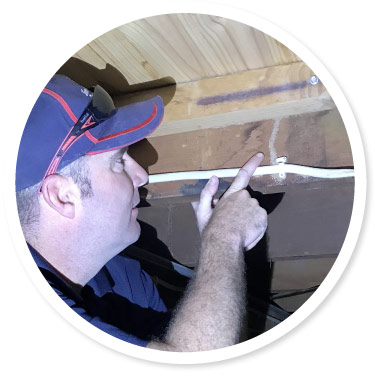 What to do if I find termites in my house & have disturbed them?
If you have disturbed them or put a hole in the wall then do your best to cover this area up and make it as dark as possible, this way the termites will not leave the area and make it easier for treatments to be put in place.
One Jim's Termite & Pest Control technician in Adelaide had a client that ripped a 1 meter hole in the wall after they found termites in their home. The technician that took the call asked them what they had found and then gave them instructions on what they needed to do until they arrived on site.
They were asked to cover the hole up with towels or a blanket or some plastic garbage bags to seal up the area and stop the termites from leaving the area. When the Jim's Termite & Pest Control technician arrived 1 hour later, he arrived to find that the client had done as instructed.
He was then able to locate an area just under where the hole was ripped into the wall and apply some bait stations to this spot. A week later the termites were happily feeding on the bait and the termite colony elimination process was well under way.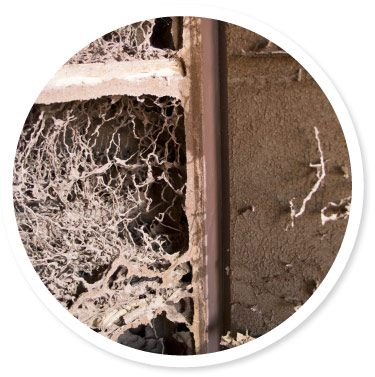 Should I spray the termites I have found with fly spray?
Aside from "What to do if I find termites in my house?", another question we are often asked is "Shall I spray chemicals if I find termites before I call a pest technician?"
A lot of people panic when they find termites inside their Adelaide home and the first instinct is to often go and get some fly spray to get rid of them. This is often the worst thing that you can do as a lot of the insect sprays you have available to you actually repel insects away from an area.
So by spraying chemicals that are available to you it can make it harder for the Adelaide Jim's Termite & Pest Control technician to eliminate the colony.
It is not the end of the world if you do spray them before you make the phone call to an Adelaide technician as we have become very skilled over the years at dealing with and finding termites in Adelaide that have been sprayed with chemicals.
Our technicians are trained to thoroughly investigate the property and will often find another location where they will happily feed from and it was probably not a spot that the client knows about.
If I find termites in my home, what should I do?
So if you have found termites in your Adelaide home and don't know what to do, then give our friendly understanding staff a call on 13 15 46 and they will get a local technician to give you a call or come out and look at what you have found. You can also enquire online 7 days a week.