Jim's techs are your local rat control experts. Our pest control team servicing South Australia is experienced, fully trained, and insured. You can trust the Jim's name to help you with any pest problem.
Rats are very frightening animals. They have large front teeth that can inflict a lot of damage. Often they use these teeth to chew on timbers and wires in homes.
These are the cause of the noises most people hear in roofs. It is the causes sleepless nights for thousands Adelaide residents.
Jim's Pest Control is the experience expert that Adelaide locals trust will resolve rat infestations quickly.
To get in touch with us about any rat or rodent problems, simply call 131 546 and our friendly staff will take your details.
Professional rat control versus do it yourself
People often wonder why getting a professional pest control provider is better than doing it themselves.
Yes most supermarkets and hardware stores sell rat baits. However these are often over used and rats build up a resistance to them. Many a rat will simply walk by them as they know they will make them sick.
Rats like humans have different taste buds. Some may like a grainy type food and others may like a fatty protein. This is something that is not catered for in stored brought products.
All of our Jim's Pest Control technicians have access to a wide range of baits. There are pasta baits, grain baits, liquid baits and even chocolate bait.
This gives our technicians a full arsenal of baits to combat even the fussiest rat. It is the main reason why our rat control treatments are so successful.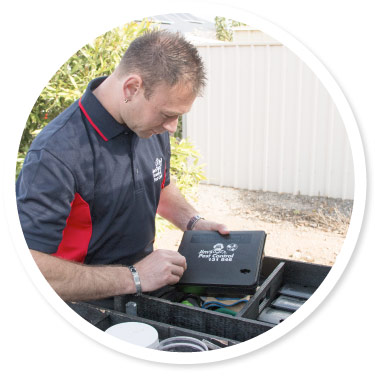 Where are you likely to find rats?
Rats are found in every street in Adelaide and Australia. They are quite prolific breeders and once they have found a good food source will rapidly increase in numbers.
Often waterways are the first place you will see rats. They will often wander up and down banks looking for food and shelter.
If they can find a yard that has chickens or birds they will have an ample food supply. Our technicians are even now seeing them adapt to eating dog and cat food.
They will often sneak inside to pinch some dry pet food. It is funny how some clients think that their dog is eating too much overnight not realising that it is actually rats feasting on the food.
Once they have found a good food source they will look for shelter close by. This is often in the form of a shed or roof void.
Successful rat treatments start with a thorough investigation
The success of any rat control treatment starts with a thorough investigation.
Our Jim's Pest Control technicians have been extensively trained on where to look. They know from firsthand experience the signs of where a rat maybe gaining access to a building.
From this investigation they will develop idea of where the rats are hiding and why they are there. They will give you some knowledge of things that you can do to discourage these pests.
Developing an action plan, utilising the most up to date products is why our treatments are so successful.
Best rat control products deliver outstanding results
Unlike other pest control companies our technicians are not limited on products they can use. Our technicians have access to all of the professional baits that are available on the market.
This is why; time and time again we are able to deliver outstanding results to our clients.
Call now and we'll work with you to control your Rat Problem – Guaranteed!