Jim's is your local pest control Golden Grove experts. Our techs servicing the area are experienced, fully trained, and insured. You can trust the Jim's name to help you with any pest problem.
To get in touch with us, simply call 131 546 and our friendly staff will take your details.
Golden Grove no so long ago was farmlands, where animals and pests roam free. It was hard for these pests and animals to establish themselves due to the scarcity of food and water.
A windfall came along, when the area was developed for housing. Trees were cleared for new homes which displaced many pests.
However, as soon as new homes were constructed, it provided the ideal shelter for them. With the addition of ponds and creeks with permanent water, it meant they could breed up in significant numbers.
This has led to the dramatic demand for pest control services in the area.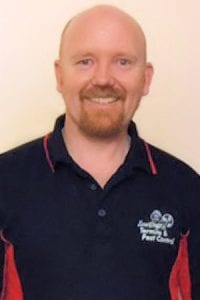 Jim's Pest Control Golden Grove dealing with termites
When homes were constructed in the area, not a lot was known about termites in the area. Most homes were constructed with little to no termite protection.
It was only years later when termites started to eat homes, that the extent of the population discovered. There were no preventative measures in place, so the amount of damaged they caused was significant.
Jim's have been dealing with these invaders for years and almost every home has been affected in some way.
Solar panels great for the environment, but haven for pests
In recent years with the rising electricity costs we have seen more people install solar panels. While the benefit is lower power bills, some pests have seen it as an opportunity.
Pigeons have worked out that the height of solar panels is exactly right to build their nests under. The hard panels provide shelter from heat and rain. Predators cannot get under the panels, so it is a safe place to raise a family.
Left unchecked, one single pair can turn into dozens over a 12-month period.
When this happens, locals call Jim's, to get these birds moved on. We have great products that can prevent birds from getting under the panels.
Regarding moving the birds on we have several options available, which may include:
Trapping
Shooting
Poisoning
Your local Jim's Golden Grove technician will be able to discuss the best option for your situation.
Other pests in the Golden Grove area
Due to Golden Grove being surrounded by parks and reserves, there is a high level of rodent activity in the area. When it rains these rats and mice are often driven into roof voids. We receive many phone calls when this happens.
Spiders are prolific in the area. The ponds and creeks are the breeding grounds for a wide range of insects. This in turn provides and ample food source for spiders. Leaving lights on will attract these insects and soon spiders will set up their webs around these areas.
Meet your local business owner
Wayne Lawson owns and operates you local Jim's Pest Control business in Golden Grove. He is an extremely hard worker and takes pride in solving his client's pest problems.
As he is a local small business operator, he likes to support other businesses in his community. Often you may spot him in the area and if you do, feel free to approach him and say hello.