If you're like most people, you've probably pondered the age old question of how to get rid of possums. Jim's local experts servicing Adelaide and South Australia are experienced, licensed, and insured. You can trust the Jim's name to help you with any possum problem.
Having a noisy possum in your roof can be quite upsetting. But, removing this noise maker yourself can be problematic. Like other Australian native animals, possums are a protected species. Before you tackle them yourself you will need to find out what local government regulations are in place.
If you are trapping possums in Adelaide, you are required to have a permit. This can take some time to organise and requires records to be kept. For most people, they just want them moved on quickly and cannot wait for this permit. People in this position will call Jim's Pest Control because they know we already have the required permits.
To get rid of possums now, simply call 131 546 and our friendly staff will take your details.
How to get rid of possums the easy way
The quickest way to get rid of possums is to follow these steps:
Work out where the possum is accessing the roof
Make a suitable proofing device that will easily be able to put in place
On sunset, go outside and watch the entrance hole.
Once you see the possum leave the roof void and they are clear of the hole, climb up and put the proofing measure in place.
Just be aware that there may be more than one possum living in your roof. If you hear more noises, then you will need to remove the proofing measure. This probably this sounds like too much hard work, so give Jim's Pest Control a call. Our local techs are very skilled at catching possums.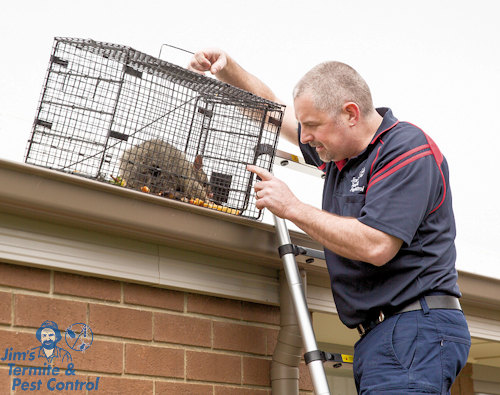 Possums are persistent pests
Once a possum's entrance hole is sealed up, it may not be the end to your problems. Possums are very stubborn creatures and will look for a new way in.
If the proofing is not strong enough, they have even been known to pull it apart. Our techs have even seen them chew a hole in a wooden facia just to gain access to a roof void.
Think of it as if someone had pushed you out the front door and locked it. You will sit on the front lawn or wander around the house looking for another way in. Eventually, you would even consider breaking in. This is exactly how a possum thinks.
A successful eviction comes down to experience
Trying to evict a possum your first time rarely works. It really is a case of trial and error if the DIY route is taken.
This is where using an experienced technician will save you time and money. At Jim's, we are constantly catching and releasing possums, and we know the tricks they use to access a roof.
Our technicians will often discover entrance points that you have not even thought of. As a result, we can deliver outstanding results for our clients.