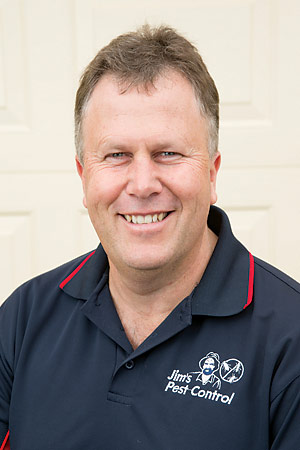 Lynton Paddick
Jim's Termite & Pest Control
North Adelaide SA 5006
Call: 131 546
1) Why did you decide to join Jim's Pest Control?
We decided to buy our second pest control franchise because the first one we brought went so well that we decided that it would be best to expand our business so that in the future we would be able to take our children on board and they will have a great financial future in a rapidly expanding business.
2) What are your values?
We believe in education of our clients as to what can and cannot be done to fix their pest issues. We believe in arming our clients with the most up to date information so that when they get other quotes they will not have the wool pulled over their eyes and will be able to make an informed decision on the best way to combat their pest problems. We find that because we are honest and very knowledgeable in the field of pest control that our clients trust us to fix their issues and know that we will not rest until the problem has been fixed. We treat our clients how we like to be treated and have some fantastic relationships with our clients that we regard as our family.
3) Tell us about your Family?
Stephanie and I currently have two children and one on the way. Both of our daughters are interested in pest control and would like to have a future in pest control as they see the reward that we get from our clients from fixing their problems. Like us they can see a very bright future in the pest control industry and have already picked out their areas that they would like to own and run. I'm not sure that their teachers share the same view as for show and tell they like to take along some of the bugs and pests that we find in our travels for the whole class to see. E.g. Bed Bugs, fleas, cockroaches and ticks.
4) What do you like to do outside of work?
Outside of work our family likes to walk our dogs or take them to the local dog park in North Adelaide or ride our bikes on the local bike tracks that wined throughout the Adelaide Park lands. We also like going for walks along the beach and if we get a chance we head across to Blacks Point on the York Peninsula to go fishing or shell and rock collecting. In the summer we like to head to Japan to go snow skiing and enjoy getting involved in the local culture.
5) What tips can you give to customers?
The biggest tips we can give our customers is the importance of having an annual termite inspection and putting a chemical barrier or termite inception system in place. We see every week the damage that termites cause to houses in North Adelaide and Prospect and never enjoy telling the owners that we have found major termite damage which is going to cost tens of thousands to hundreds of thousands of dollars to fix. There is no insurance for termites and most people are shocked to learn that termites cause 1.5 billion to 2 billion dollars worth of damage to Australian properties annually. Where a simple annual visual termite inspection can detect termites in the very early stages or a termite inception system or chemical barrier can dramatically reduce the risk to your property.
6) What has been one of your most interesting jobs?
The most interesting job I have done so far was a call out for termites in a pile of wood in a back yard in Prospect. When I arrive I found that the owner had stacked some half foot timber off cuts up very neatly into a pile that was 6 foot high by 4 foot wide and 3 foot deep. It turns out that termite alates had found this timber pile and had built a colony in it. Looking at the timber from the outside it just looked normal, but if you tried to pull out any of the timber you couldn't as they appeared to be glued together. We had to use a crow bar to remove two layers of timber and what we found was a massive thriving termite colony. What was an eye opener to me was this pile had only been there for 5 months and even though the timber was off the ground and covered the termites had found it and made a home.
7) How has your Jim's Pest Control Franchise been for you since joining?
Since joining Jim's Pest Control we have not looked back, our business seems to be doubling in size every year and we cannot see this changing in the near future. Jim's and the support we have received have meant that we have now got the financial future we wanted, as well as a fantastic work life balance. Many of my friends our jealous as to the fact that I can take a holiday in Japan any time I want, I can take a day of work to go and watch my girls at their sports days and if they are sick I can simply work from home while taking care of them. It is the best move I have made in my life so far except for when I married my childhood sweetheart Stephanie.
8) Where do you see yourself in 5 years time?
In five years time I see that we will be training my girls to become the very best pest technicians and will probably be only servicing my valued clients. I currently only take Jim's leads within my territory and have done so since February 2013, which means I have been able to slow up on how much work I do while still growing my income.
9) Pest issues that you find in your area and unique content.
North Adelaide, Prospect and the surrounding areas has fantastic parks and parklands that myself, Stephanie and our children enjoy. We think in the area we almost have it all, with things like Adelaide Swimming centre in North Adelaide and the new Adelaide oval and the football that is now just a short distance away. We have really seen the North Adelaide area come alive of late, as there is now so much to do in the area. If you want to have a lazy day then the local restaurants and cafes are fantastic, if you are a sports enthusiast then have a walk around the parklands of the weekend and there are heaps of things happening. It is really a great place for Stephanie and me to raise our kids, but as a local we see the pest issues in our community first hand. We seem to have lots of possum and rats issues as the older houses have lots of entrance points for these critters and because we take such pride in our homes I like to think it seems to make it more attractive to the pests we see. Even houses that are over 100 years old that have never seen termites are now seeing termite damage and this may be because of the changing environment or due to the new housing developments in the areas which are disturbing termite colonies that get evicted when a building is demolished and need to search for a new home.