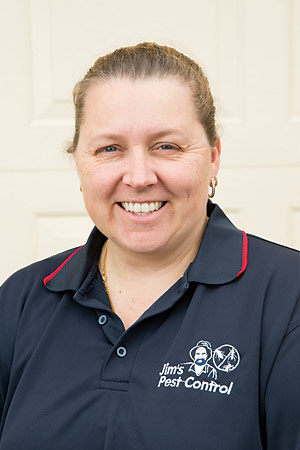 Stephanie Paddick
Jim's Termite & Pest Control
Mawson Lakes SA 5095
Call: 131 546
1) Why did you decide to join Jim's Pest Control?
We decided to join Jim's Pest Control as Jim's Pest Control was in its early days and we could see the advantage of getting in on the ground floor. We had been involved in the Pest Control Industry for the previous 4 years and were just about to start are own company when we heard about Jims Pest Control. We made an enquiry on a Wednesday and a week later we were flying to Melbourne to learn about Jims.  We have not looked back since as the brand name has opened several doors for us.
2) What are your values?
We believe in giving great quality service and believe in doing the job correctly first time round and to give the client the confidence it what we have done we usually give warranties on all work we have done. We are reliable and turn up on time unless the traffic or we have been held up on a previous job due to showing compassion for our clients if we have found termites, however we will always contact our client and let them know we are running late. We always keep our client informed of what is happening and treat their house as though it was our own, doing the simply things like wearing shoe covers while spray inside.
3) Tell us about your Family?
My husband Lynton and I have two lovely girls who are keen to come out and help us on our pest control endeavours; we also have a new bubs on the way. We are very family orientated and this is the main reason why we chose to buy a Jims Pest Control Franchise to give us a better work life balance and to secure our families financial future.
4) What do you like to do outside of work?
We love bike riding around our neighbourhood and going for work around Mawson Lakes and if the girls are lucky we go past the local playgrounds. We also like travelling to Japan and enjoy going snow skiing. If we get a spare weekend we also like travelling across to the York Peninsula to see the Lynton's parents.
5) What tips can you give to customers?
Chemicals are like a carton of milk, they actually have a used by date and will start to lose their potency every day after they have been mixed, so if you going to buy an off the shelf outdoor spray then you need to check the manufactures date or used by date to ensure that it is not old stock otherwise you might as well go and spray the buys with water. This is why our treatments are so successful as we mix the chemical up right there on the spot, so it is at is most potent.
6) What has been one of your most interesting jobs?
The most interesting job we have done so far is a client that had a live possum stuck in a wall on the inside of their house. To say the least the possum was not happy to see us but if we did not remove him out of the wall then he would certainly die. Just imagine that you had a very unhappy possum and you had to put your hand in to retrieve it and imagine how uncooperative the possum was. After several attempts Lynton was able to retrieve the possum without injury to himself or more importantly to the possum, he was then put in a cage and monitored for 20 hours to make sure he was ok and then released back into the area where he came from after his entrance point to the house was proofed, the client was ecstatic with the result
7) How has your Jim's Pest Control Franchise been for you since joining?
My Jims Pest Control Franchise has just gone from strength to strength; we have after just 18 months got our business to the point where we only take Jims leads within our Territory.  This has meant the we do less travelling and have more time at home and more time to spend with our children as they grow, which was the whole aim of buying the Jim's Pest Control Franchise in the first place.  It also means we spend more time in our local community which means we get a better understanding of the pest problems in our community.
8) Where do you see yourself in 5 years time?
In five years time I see myself still servicing the fantastic client list I am developing, we will probably be at a stage where we will take very few leads if any and have a really fantastic life style. We also hope to be able as the Regional Franchisor for Jim's Pest Control in South Australia be able to teach and show other people how to develop and grow their own Jims Pest Control business.
9) Pest issues that you find in your area and unique content.
In Mawson Lakes and surrounding suburbs we are truly blessed with fantastic parks and walking tracks, it is a great place to raise a family. My family enjoy riding bikes to the local cafes and eating breakfast or lunch and watching the people fishing in the lake or the remote control.  It is always good to go for walks around the wetlands and see what bird life we can see and what insects we come across. We also know that because of these wetlands we see a high number of spiders invading the houses in and around Mawson Lakes and when the wetlands dry out in summer and first lots of rain hit we also know that is when the mice and rats from these wet lands go and seek higher ground. This is why in Mawson Lakes if you have a pest problem then there is no one better to call than a local pest controller that lives in the area.